Sound Entertainment is a North Carolina Disc Jockey company dedicated to providing the best in Disc Jockey Entertainers for all of your event needs. Our Entertainers and Disk Jockeys go the extra mile so that your guests walk away from your event saying "Wow! That was the best party that I have ever been to."
Ø You deserve the best possible Entertainer and DJ at your event.
Ø Our North Carolina base DJ's can cover Virginia, North Carolina parts of Georgia and South Carolina with Quality DJ's for every event.
Ø Your Entertainment is catered to meet your individual or Corporate Event needs.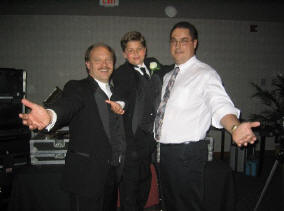 Ø We play only the best music and leave all the rest. You choose the styles you prefer to hear.
Ø Master of Ceremony with each event along with a spectacular light show.
Ø You choose your crowd interaction. From leading folks in various fun activities to tastefully orchestrated activities throughout the evening.
Ø In these pages we provide many tools that we hope will help you to plan the best party event possible and help make the evening a night to remember. Many folks find the tools on the Event Planner page very using in planning their dance, office party, company picnic
Ø Our DJ's never stop, they just keep on Spinin.
Ø A Professional DJ will bring so much more to your event.
---
Sound Entertainment is a leading provider of North Carolina Disc Jockey's for great party events.. With our headquarters centrally located in Statesville NC, our Entertainers have covered all of North Carolina and parts of Tennessee, Virginia, and South Carolina.
Using our entertaining skill along with our knowledge of music and Multi-Mixing Techniques, our DJ's bring the energy of the music to the dance floor.
Want to know what a professional Disc Jockey can do for your party? Check out this article on "The Role of a Professional Disc Jockey."
Within these pages you will find many items that will help you in planning your next event. Many Planning lists can be found on our Party Planning Page. DJ Interaction includes many activities to have fun with during the event.
Your Corporate Event, Company Picnic, Wedding Reception, Wedding Rehearsal and School Party will be a topic of discussion for years to come with our Mobile Disc Jockey Service.
Everyone will be talking about how much fun they had at your event.
If Sound Entertainment's Disc Jockey Entertainment can help you with your next event , please call us at (704) 873-1386

This Site has been visited times since 3/15/2003